We're proud to present our first annual Unfiltered Gamer Christmas Guide. 
We believe board games are the perfect gift for anyone on your gift list! With styles, themes and weights covering almost every facet of life, hobby and interest we know the right game is out there. This year we're happy to present our 3-part Christmas Guide featuring 6 different board gaming categories to help you find the right game for you! While there isn't one game right for everyone, every game featured in our Christmas Guide comes highly recommend. We've played hundreds of games over the past couple years and these are some of our favorite to cross our gaming table.
It's a Wonderful World – War & Peace and Corruption & Ascension
Lucky Duck Games
1-6 Players | 30-45 Minutes
One of the most addictive, engine building games released not one but 2 expansion this year: War & Peace and Corruption & Ascension. War & Peace is a 5 scenario adventure where decisions made tip the scale towards war or peace. Unlock cards that can be added to the base game. Also featuring a solo mode, this "legacy" style game is 100% repayable. Corruption & Ascension introduces new cards tied into the base game, providing new scoring opportunities through pairs as well as corruption. Fans of this evergreen game know these expansions are a must!
Unfair – Alien, B-Movie, Dinosaur & Western
Good Games Publishing
2-5 Players | 50-125 Minutes
This Unfair expansion provides 4 new park deck themes with all new scoring mechanics to enrich the base game. Introduce new alien currency, add in a live dinosaur or two as well as well as score additional points by creating panoramas with your park cards. Fun additions like rolling the dice each turn to keep the dinosaurs from rampaging bring new and exciting elements to the table. In addition to a few new wrinkles, the Unfair expansion essentially provides more of everything you love about the original Unfair game.
Wingspan – European & Oceania
Stonemaier Games
1-5 Players | 40-70 Minutes
With 2 new expansions, one of the most beloved games of recent years becomes…bigger. In the European expansion new birds add new abilities, round end abilities, increased player interaction and other bonuses. Oceania brings new play mats with new bonuses, new food tokens, eggs and of course birds. Both expansions are designed to be shuffled in with the original deck.
Dice Hospital: Community Care
Alley Cat Games
1-4 Players | 45-90 Minutes
Enjoy three time the medicinal dice-drafting fun with the new Community Care expansion. Included in the box is The City Expansion, The Maternity Expansion and The Investments Expansion. The City Expansion offers new ways to draft patients into your hospital including using a helicopter. The Maternity Expansion adds a maternity ward to your hospital with baby dice as well. Roll the die to see if your patient has a single or twin babies! The Investments Expansion which introduces new department tiles and specialists.
Unmatched Jurassic Park: InGen vs Raptors
Mondo Games/Restoration Games
2 Players | 20-40 Minutes
One of the most popular asymmetrical games of the last few years is back for more with Jurassic Park. Like most of the Unmatched titles, this can be played as a stand alone or tied into the additional titles. Play as and an InGen employee or team of Raptors. Strategically outmaneuver your opponent all the while the Jurassic Park theme song plays repeatedly over and over in your head.
Twice as Clever!
Stronghold Games
1-4 Players | 30 Minutes
The sequel to the hit That's Pretty Clever, Twice as Clever bring new challenges and puzzles to solve in this super fun roll & write. Score point and additional combinations by drafting multiple colored dice. Unused dice are placed on the "silver platter" allowing opponents to grab one once per turn. Along with new scoring challenges, Twice as Clever introduces new unlocks, allowing you to re-roll lower valued dice. I have played the games in the Clever series countless times and have yet to grow tired. In my option, this is the greatest roll & write out there.
Welcome to
Deep Water Games
1-100 Players | 25 Minutes
Build a new neighborhood in this fantastic, 50's style flip and write. Players simultaneously choose house numbers to add to their neighborhood street. Each card is paired with a bonus such as a swimming pools, parks or fences. House numbers must be numerical order so choose your cards wisely. Welcome to plays great with any number of people. The cards are always going to be randomly paired with a bonus creating a new experience with new personal strategies each game. Welcome To is the perfect family flip & write game.
Cartographers: A Roll Player's Tale
Thunderworks Games
1-100 Players | 30-45 Minutes
Cartographers takes place over 4 seasons. During each season players work to map out the queen territory. Players will draw on their map to claim land for the queen as well as reduce the enemies influence. Earn the most reputation stars and win the game. Cartographers exists in the world of the popular RPG builder, Roll Player. You'll not only have fun playing the game, but will have a work of art to show for it.
Silver & Gold
Pandasaurus Games
2-4 Players | 20 Minutes
Players simultaneously attempt to complete individual treasure map cards by flipping over a deck of Tetris-style shapes. Each treasure card features a shape made out of individual blocks. Fill in the blocks with the shapes to earn bonus points, community objectives and additional blocks. Once a card is completed draw another and do it again. Silver & Gold is a fast-paced flip & write that just works. It's fun for anyone in the family. It's the kind of game you end up playing "just one more game."
Railroad Inc
Horrible Guild
1-6 Players | 20-30 Minutes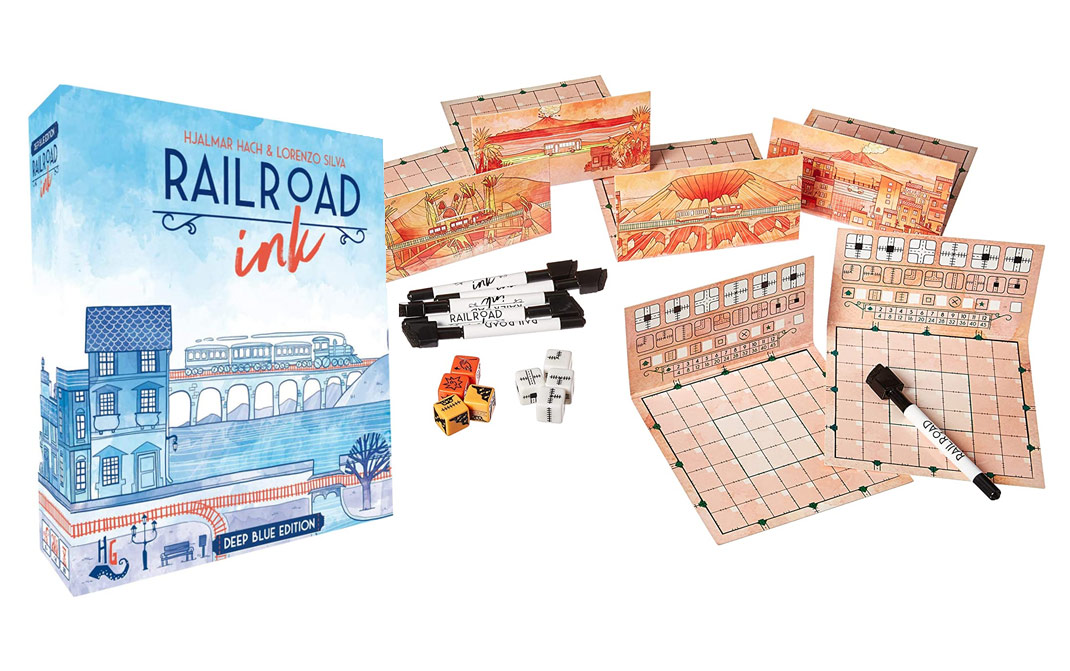 Create the most efficient network of railways and roads to earn the most points. Dice provide all players train routes and roads available. Players then arrange the symbols to form transport lines and connect your exits. The game comes in blue, red, yellow and green versions that provide different challenges. Railroad, Inc features a great theme with simple, yet challenging game play. Railroad, Inc is a high quality production with a great puzzle and engaging theme.